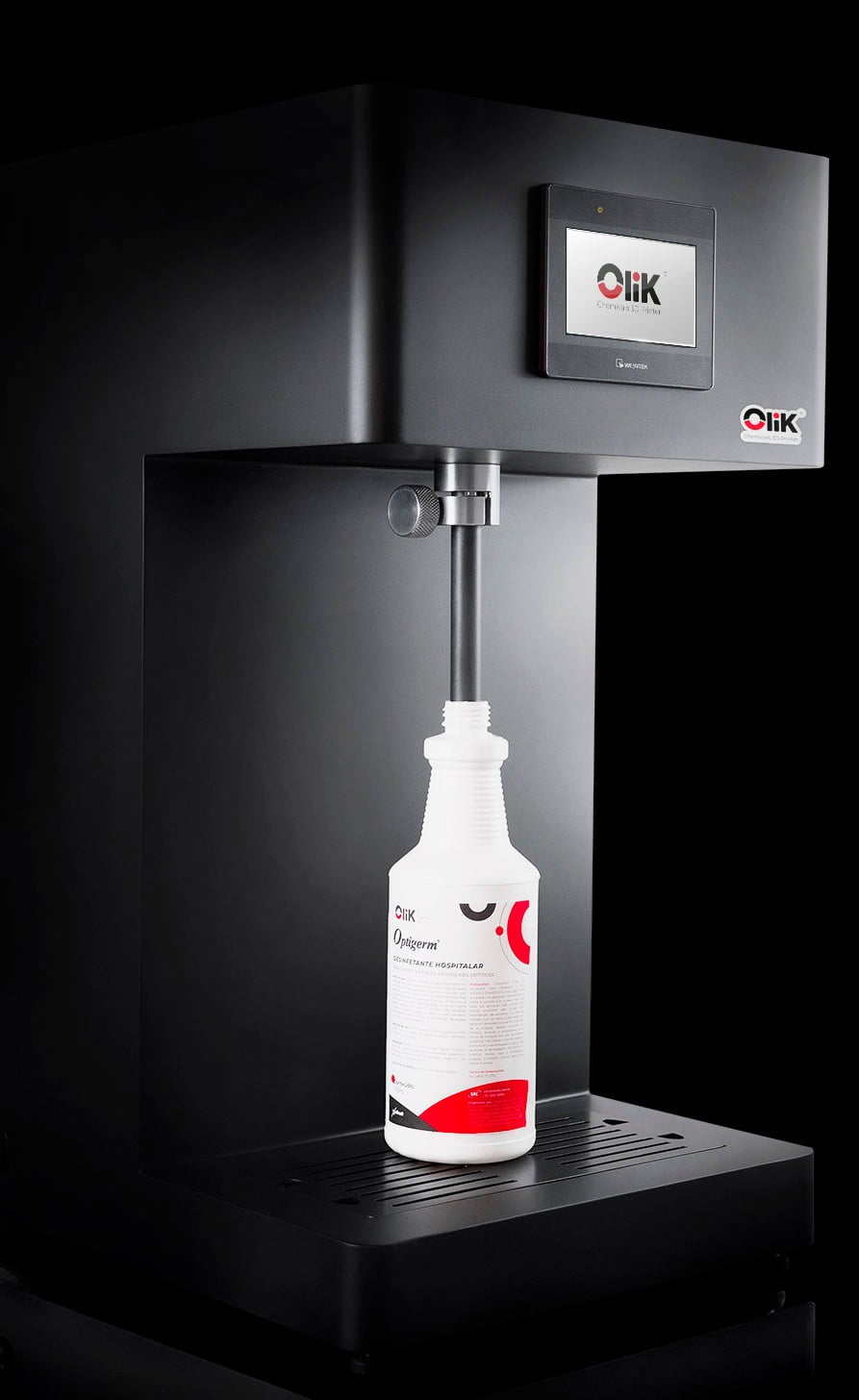 The portable chemical factory
Get to know Olik
Olik enables the production of any cleaning solution on demand and where the cleaning job needs to be done. Starting from balanced pre-mixes of carefully selected raw materials, the device combines the ingredients in pre-programmed formulas building any professional cleaning product.
Sign up to download the Olik presentation!
Best cost-effectiveness
Thanks to its great precision, it is possible to produce the chemicals on-demand and with zero waste. Also, it is possible to install several types of premixes, which means that, in one device, detergents, degreasers, disinfectants, laundry, hygiene products and many others can be produced.
Sustainability
Olik is so innovative that it optimizes the whole production process. It delivers efficiency in preserving resources, such as: water, energy and, of course, chemicals. Besides the preservation of raw materials, it contributes to plastic savings and avoids unnecessary labor costs.
Safety and security
Olik is safe for the user, surfaces and the environment. It follows strict regulations so that it does not endanger the user in the production process, as the chemicals do not need to be manipulated. Besides, the raw materials are mixed with precision, yielding solutions that do the cleaning job without damaging the surfaces.
Data preservation
the Olik device garantes total control over the chemicals consumption, since all of its data is preserved. This way, managers can analyze frequency of production, amount produced per user, most needed raw materials and much more. It allows a better perception of the whole process, highlighting possible flaws and turning the strategic decision-making easier.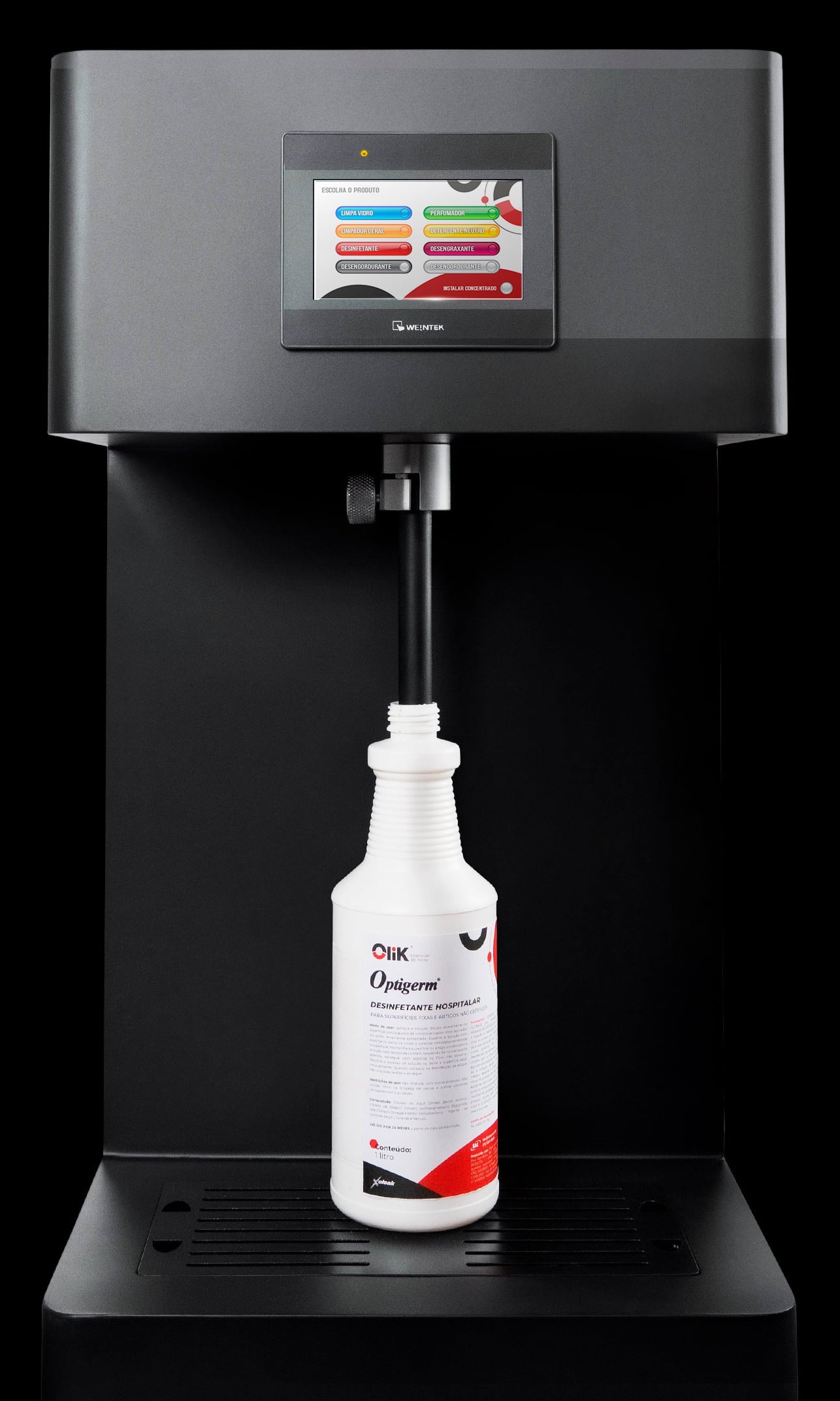 In 4 simple steps, you can produce all the chemicals you need!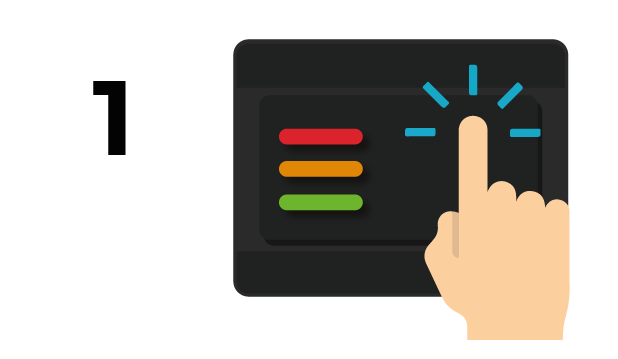 Choose the product you would like to prepare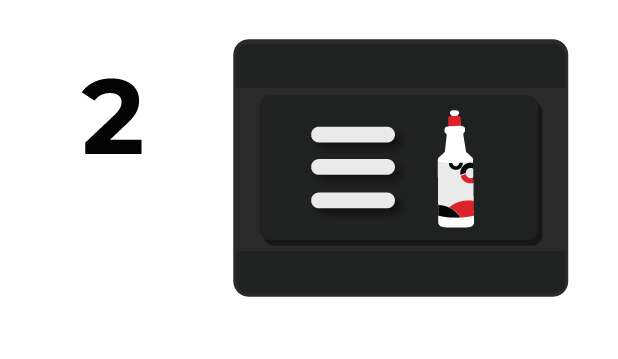 Select among two options of bottle size: 1 or 5 liters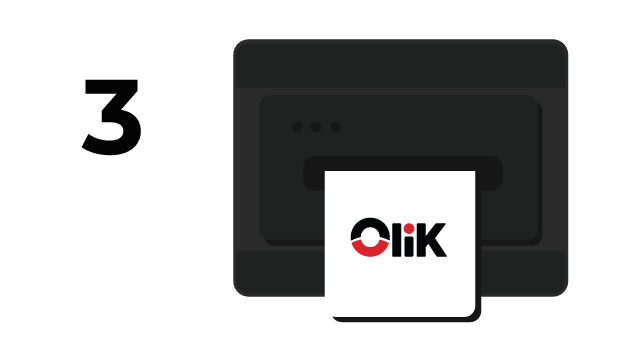 Wait for the product to be prepared and the label to be printed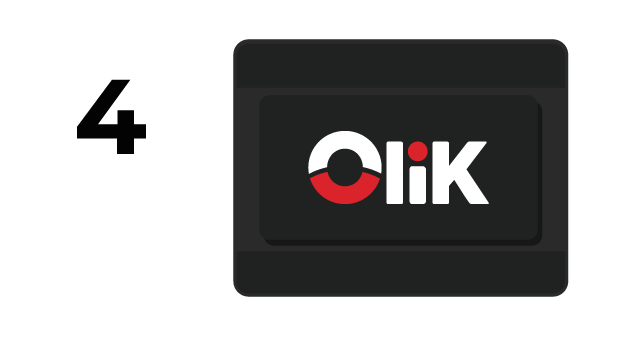 You're all set! Congrats on producing your first Olik product
One machine, countless possibilities

Solutions designed to optimize cleaning operations in professional environments. High-precision device that allows the production of chemicals in a customized manner, on demand and most importantly: with no waste. Produce only what is necessary for your business.
Multigerm Disinfectant
Multigerm Disinfectant and Cleaner
Multigerm Disinfectant, Cleaner and Deodorizer
Germicidal Bleach
Glass and MIrror Cleaner Streak Free
Glass Water Repellent
Heavy Duty Degreaser and Cleaner
Industrial Degreaser
Rust Stain Remover
Alkaline Degreaser and Cleaner
Neutral Degreaser and Cleaner
Leather Cleaner and Conditioner
Out Door Cleaner
Ink / Paint Remover
Air freshener
Bathroom Cleaner and Disinfectant with beach
Bathroom Cleaner and Disinfectant bleach free
Bathroom Cleaner and Disinfectant with HydrogenPeroxide
Bathroom Grime Fighter
Shower Cleaner
Shower, tub and tile Cleaner
Calcium, Lime and Rust Stain Remover
Moss, mold and mildew Stain Remover
Toilet Bowl Cleaner - Acidic
Toilet Bowl Cleaner - Neutral
Toilet Bowl Cleaner - Antibacterial
Urine Remover
Carpet and Upholstery Cleaner - no foaming
Carpet and Upholstery Bonnet Cleaner
Carpet and Upholstery Traffic Lanes Pre-Treatment
Carpet and Upholstery Spot Remover
Carpet and Upholstery Foaming Shampoo
Hard Wood Floor Deep Cleaner (deep cleaner and maintainer)
Ceramic Floor Cleaner (deep cleaner and maintainer)
Natural Stone (marble and granite) Floor Cleaner (deep cleaner and maintainer)
Vinyl Floor Cleaner (deep cleaner and maintainer)
Acidic Floor Cleaner Restorer
Acidic Outdoor Natural Stone Cleaner
Floor Stripper
Floor Finish Restorer
Grout and Tile Cleaner
Fabric Softener
Fabric Freshener
Laundry Detergent
Laundry Detergent and Sanitizer
Laundry Stain Remover
Laundry Pre-Wash
Dishwashing Liquid
Dishwashing Liquid Hand Soap
Dishwashing Liquid and Sanitizer
Fruit and Vegetable Sanitizer
Countertop and machine cleaner
Countertop Sanitizer
Countertop Cleaner and Sanitazier
Grill Cleaner
Barbecue Grill Cleaner
Grate Grill Cleaner
Oven Cleaner
Stove Cleaner
Drain Mantainer
Drain Opener
Pipes Cleaner
Hand Foaming Soap
Hand and Body Foaming Wash
Hair and Body Foaming Shampoo
Antibacterial Hand Foaming Soap
Tile Cleaner
Car Wash Low Foam
Car Wash Super Foaming
Engine Cleaner and Degreaser
Leather and Vinyl Cleaner and Conditioner
Upholstery and Carpet Cleaner Spotter
Streak Free Windshield Wash
Bug and Tar Remover
Car Interior Sanitizer
Cat litter Odor Controller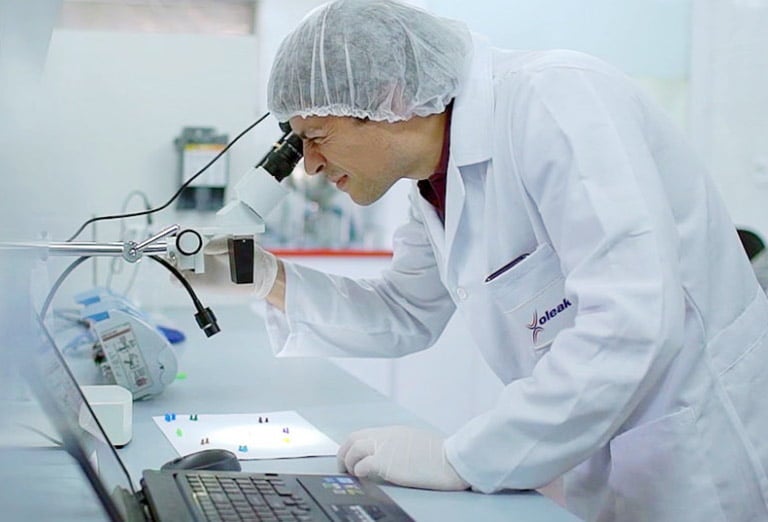 About us
Oleak is a reference in the chemical industry, capable of serving the most diverse segments. With a wide expertise in hygiene and cleaning, it is much more than a manufacturer. Innovation and technology are part of its DNA, which is why different equipment is patented by Oleak and exclusively used by its distributors. Divided into 3 main business units, Oleak has solutions for the institutional, healthcare, and private label markets.
Institutional
It manufactures the best professional products for hygiene and cleaning, specifically designed for institutional environments. Its mission is to improve the cleaning and hygiene conditions in the environments, providing health and well-being to all those who work or frequent these places.
Healthcare
With the noble mission of helping doctors and nurses save lives by fighting germs proliferation in healthcare facilities, this division manufactures surface sanitizers and hand sanitizers.
Private label
The same exactness applied in the production of products that carry its brand, Oleak dedicates to the manufacturing of products for third parties. Its competent and experienced team of researchers is available to develop and adjust products, according to your needs.